Information for operators
We are in the middle of nature with alot of possibilities around. Our guests really experience the wildness of northern Sweden
We have rooms ranging from simple overnight rooms to group rooms or a suite with all needs.
Here you can Sauna with 6 or 12 people. We have 2 kayaks ( at the moment ) and SUP boards for our guests to explore the river. We also offer room service after dinner. You can order a beverage or some snacks to your room.
Kronlund Kursgård is a great budget-friendly bed and breakfast
We offers a range of accommodation options, including cosy suites and basic rooms with a bed and wardrobe space. All rooms come with access to a public kitchen, providing guests with the flexibility to cook their meals as per their preferences.
In the winter, guests are treated to a unique experience as they witness reindeer
roaming around the property. The rooms are warm and cosy, providing a comfortable stay for both larger groups and intimate couples. Guests can enjoy a delicious breakfast served directly to their rooms, ensuring a relaxing
start to their day.
Book a cosy Bed and Breakfast
Our Bed and Breakfast offers three types of rooms: single, double, and suite. The suite is equipped with a smart TV, coffee and water boiler, shower, and toilet, while the other rooms have shared toilet and shower facilities,
but each room has its own smart TV for guests to enjoy modern streaming services. All rooms are frequently cleaned and come with clean linens. Guests are provided with a breakfast basket filled with a variety of delicious
items.
These rooms feature a bed, shared showers and toilet. A big kitchen and dining area, and TV with the local channels. This building is also accessible for the lesser able guests by ramp and electric door. There is also a disabled
toilet and shower.
To accommodate all our guests we have a variation of prices.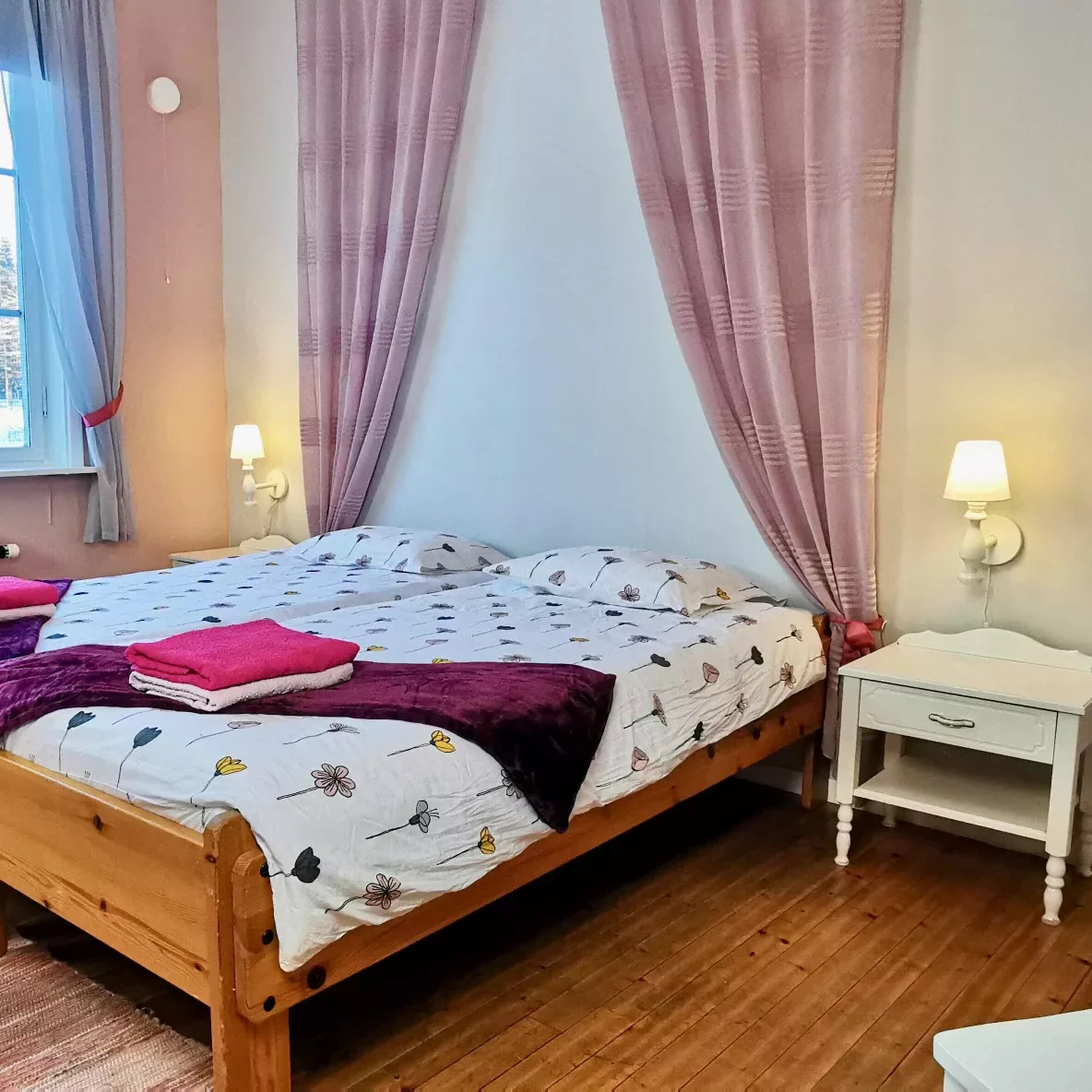 Double room standard rate of
700 kr
Bunk rooms, starting at
900 kr – 1300 kr
Double room with smart tv

950 kr
Double room with an extra relax area, own water boiler and coffee maker. And an own bathroom
1300 kr
We have a wonderful property which is ready for all seasons. Located on the Vindelnälven the last free flowing river in Sweden 160km long from mountain to sea protected by UNESCO. Also nearby is the Isälvsleden, a 60 km long hike and
mountain bike trail with Europe's longest sand dune.

For racing enthusiasts the World Rally Championship takes place in February. And a week before that there is also The Race Of Champions. 36 minutes away there is the Trollring, a karting track in the middle of the forest. Also there
is the Ancient forest, an untouched forest that looks as if time has been standing still. Wanting to ski? We have a partnership with Buberget the local ski slope. We can have your ski pass ready in your room when you arrive. Further
possibilities are dog sledding, wild water rafting and more to come.